About Marc McGreevy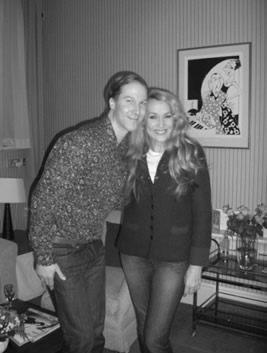 Marc McGreevy is a celebrated fashion artist and designer that has won international acclaim.  Marc began his career designing fashion layouts and creating unique jewellery collections for high fashion magazines such as Elle and Vogue.  His talents have secured features in numerous publications including The Sunday Times and ES Magazine.
Marc's passion for fashion and illustration coupled with his natural creativity has secured him a position as one of Britain's finest.  Marc travels the world illustrating the most spectacular fashions with unrivalled flair, sophistication and poise.  He captures the magnificence of the garments beautifully on paper.
An accomplished fashion artist, Marc's present portfolio includes a collection of 'Fashion Modes' Fine Art Prints.  Actress & Model Jerry Hall is the first person to own one from the Collection. 
Marc McGreevy is an artist of limitless potential and has produced paintings for Actor David Morrissey, Actresses Joan Collins, Linda Gray, Kim Cattrall and Academic Germaine Greer.
The Artist was born in Birmingham and studied in England.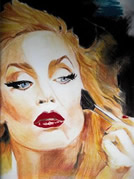 (above right)
Marc McGreevy and Jerry Hall
"My lifetime influence"
(right)
Jerry Hall by Marc McGreevy
Private Collection